There are a few rules to remember when thinking about investing your hard earned money:  Never invest more than you can afford to lose, Don't put all the money you want to invest into the same account, If you can't leave your investment alone to grow for at least five years, then put your money into a savings account, The bigger return you expect from your investment the higher the risk, and get financial advice from a professional before investing in any "To good to be true"  schemes.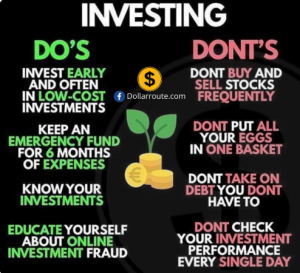 ALWAYS get an AML IDENTITY CHECK on any company you are thinking about investing in from a professional company such as W2 they will carry out an Anti-Money-Laundering check to make sure your investment is as safe as possible.  You could decide to invest in an ISA, this should probably be your first flurry into the world of investments as everyone over the age of eighteen has a tax-free allowance from the Government of £20,000 so you won't pay tax on any gains you make on Stocks and Shares.
You may have heard about Cryptocurrency, this is a digital form of money used in online trading platforms where you put a certain amount of your money into an account and then use that to buy Bitcoins, Ether, Binance Coin, Tether, Solana, or Xrp to name just a few options.  If they go up, you make virtual money and if they go down you lose.