Starting up your own business may seem like a daunting prospect but there is plenty of advice out there to help you. Read on to discover our top tips for start-up success.
Meeting a need with your idea
If you've thought of an innovative idea, it is tempting to just run with it and see how it goes. We recommend that before you make any firm commitments, you should assess the need or market for your product or idea. If there is an available niche ready and waiting, your start-up idea will have so much more potential to be successful.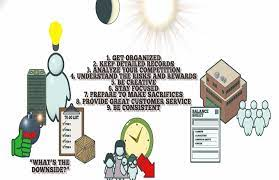 Being a great leader
Your leadership style will mould the direction your business takes. If you have tons of determination, drive and a great work ethic, your employees will take your lead and your company will have a great culture to work in.
Surround yourself with a great team
Setting up a business can be quite lonely to start off with but as soon as it is financially viable, it is essential to surround yourself with other like-minded people who understand what you are aiming for and what you want to achieve.
Find a mentor
Finding a mentor who understands what you're aiming for with your start-up business can be a great advantage. They will be happy to pass on their knowledge and experience to you as they may well have had a mentor themselves who helped them in the past.
Promote a great culture
Developing a great culture and ethos when setting up your business will set the tone and future direction. It will also lay out what you want to achieve and what steps you will put in place to get there.
Financing and paperwork
Even if your business is small, you still need to make sure everything is processed and signed correctly. You may need to provide a directors personal guarantee to secure essential initial financing.
Make sure you have a business entity
The volume of paperwork can feel overwhelming but it is very important to set up a business entity. Gaining advice from experts about issues such as entities and information regarding director guarantees for any financing, as mentioned above, can help things run as smoothly as possible.
Look after your ideas
The big idea for your start-up is the most important thing you'll own, so we recommend protecting your intellectual property (IP) as soon as possible. If you protect your ideas at the outset, it will be advantageous throughout the life of your business. Your legal advisers can provide further information on copyright, IP and patents.
Get set for success!
Always have the end goal for your business in mind from the very beginning and make everything you do work towards that goal. There will be things along the way that could justify adjusting your approach but if you keep your original goal in mind, success won't be far away.