How to choose the colors of the walls for a romantic bedroom. 5 particular proposals to make the atmosphere of the sleeping area sensual and relaxing.
There are several elements and details that can help create a romantic bedroom. A place to spend moments of the day, not just the nights, in a sweet and passionate atmosphere.
From the choice of the bed frame to the furniture and tables. Without neglecting the curtains and small accessories such as lampshades and a mirror with golden edges. There are many things that can be studied and, overall, help to create a wonderfully romantic setting.
In the sleeping area, there are several styles that can allow you to create the appropriate atmosphere from Scandinavian to the country up to the sweet and delicate Provencal that gives a classic scenario of the French countryside.
Colors for romantic bedroom walls: ideas
-White
-Blush pink
Lavender
-Anthracite black
-Cream
Colors for romantic bedroom walls: ideas
The colors of the walls of the sleeping area help with the aim of transmitting sweet sensations, creating relaxing atmospheres for moments to live intensely as a couple.
In addition, a romantic setting is also nice to see and enjoy, upon returning home after a hard day's work. Being able to dive on the soft bed embellished with lace and light fabrics. While looking at the ceiling to daydream.
Let's see 5 perfect colors for the romantic bedroom
White
Practically eternal color, white never sets and responds to many needs when painting home walls. Neutral and able to enhance the details and lines of the furnishings. White can adapt to many modern styles, from Scandinavian to minimal up to the country that, due to its veil of antiquity, is very reminiscent of the countryside.
Then, the ease with which it makes the room much brighter is a key factor that makes romantic traits appreciate more, especially when choosing an antique-like a crystal chandelier can be.
The four-poster bed, surrounded by a transparent veil, makes the situation romantic, matching the walls, in a sort of continuity.
Blush pink
Tinted with decidedly feminine features, the blush pink is, therefore, a one-way proposal. More suitable for a bedroom for a woman than for a couple's double.
Fresh color and lively but not too lively, it can immediately connote the sleeping area in a romantic way, for those girls and ladies who like to daydream and remain eternally young.
There are several proposals for the structure of the bed that match this shade of pink as well as the fact that the naturalness of the wood seems to marry perfectly.
Even for those who want to follow futuristic furnishing trends, the soft character of the blush pink is an excellent match. As long as you don't choose too bright colors to match.
Lavender
For those looking for a certain liveliness in the bedroom, the lavender color is available to create a modern environment and in any case with a certain romantic influence that never hurts.
While denoting a strong passion, it is a color that can give a cutting-edge room, choosing contemporary, simple, essential and above all functional furnishings.
Then, to be very romantic as an environment, the four-poster bed always gives strong emotions.
Anthracite black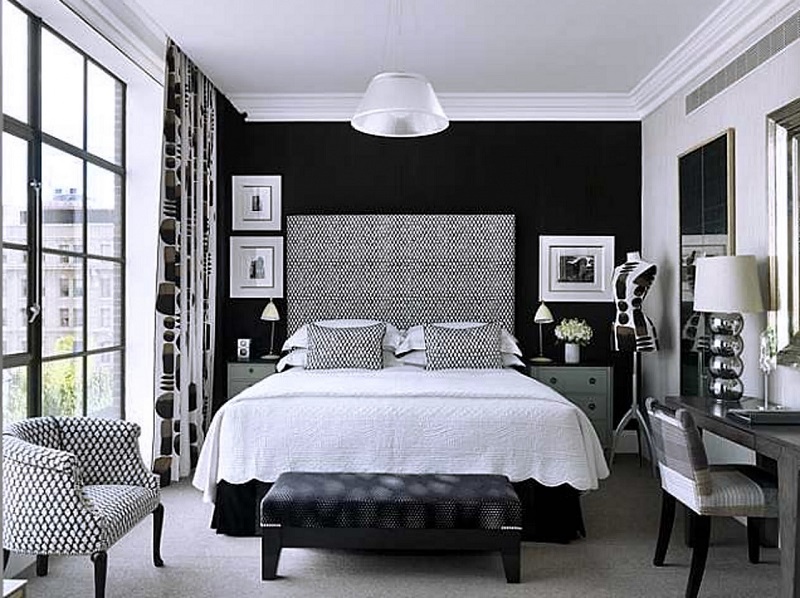 Little accustomed to thinking of dark shades as romantic, anthracite black can be appreciated by those who want to design the bedroom in a modern style, resulting cozy and elegant at the same time.
The role played by the complements is very important: a large thick pile rug is an element that allows you to savor warm emotions, especially on long winter nights.
Pleasant combination with decorative elements with golden hues. As can be an antique mirror with a decorated and well finished wooden edge.
Cream
Sweet and natural, the cream color does not seem to be too flashy in the environment. Ideal for those who intend to renew the chromatic aspect of the room without exaggerating.
The elegant furnishings are placed in relief; there is no shortage of soft and velvety textiles, of high quality and with decorative effects.
The presence of a large mirror always remains a choice of furniture very appreciated by those who love to give romantic sensations to guests.
Then, it is a color that is really good with many combinations. Even with darker and eccentric shades like the shades of purple.